More than a decade of operation in the field of Logistics
Eimskip is a long-standing shipping company in Northern Europe, established in 1914 with the aim of leading in the field of transporting refrigerated containers and refrigerated goods in the international market.
11/2017
In 2007 we came to the Vietnamese market with the desire to expand and develop into the Asian market based on the principle of professional work - putting quality first in Northern Europe.
Choosing Ho Chi Minh City is the beginning of Eimskip in the Vietnamese market run by Mr. Long. It is a milestone of Eimskip Vietnam.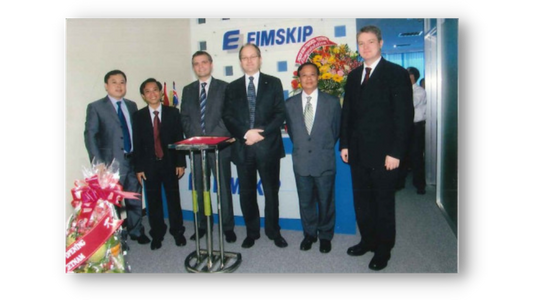 02/2018
Eimskip expands business scope, Binh Duong office is established
2019
Aiming to provide first-class 3PLs services, in 2019 Eimskip warehouse system will come into operation until 2022. We provide 3 warehouse systems in Vietnam market, including:
04/2019: The DC03 warehouse for storing common goods was opened in Ho Chi Minh City. Binh Duong
08/2019: The temperature storage warehouse opened in District 9, Ho Chi Minh City
11/2021: DC01 conventional dry warehouse is opened in Ho Chi Minh City. Binh Duong
Maintain your brand assertively
Service quality at Eimskip Vietnam is reflected in customer satisfaction. It is clearer to understand customers and provide services that can make Import-Export become the simplest, turning the dream of Vietnamese brand into reality.
Achievement
We simplify things for our customers. That's how we achieve our goals
Cooperation
We offer outstanding solutions and services. That's how we achieve our goals.
Trust
We show responsibility towards customers, shareholders,
society and the environment. That's how we earn trust.
RESPONSIBLE - we're caring. We work for a better society, preserve and
protect the environment and strive to be a role model when
it comes to responsibility and trust.
ACCOMPLISHED - we connect the world. We make the trip safe, we provide
Excellent service – and we have been doing it for 106 years.
Code of Conduct at Eimskip
Eimskip offers reliable transportation services with customers' needs at the forefront.
The purpose of this Code of Conduct is to support Eimskip's mission and vision. It applies to the Board of Directors and all employees of Eimskip and its subsidiaries and guides them in conducting the Company's daily activities in an honest, responsible and ethical way, based on its values and generally accepted professional standards of conduct. Suppliers and subcontractors are also required to conform to high standards.